About the Inn
Kangaroo House Bed & Breakfast is a lovely historic landmark, built in 1907 as a large Craftsman Bungalow hotel, with local fir and cedar lumber and field stone for the architectural features. Having been a B&B for 42 years, Kangaroo House is the longest continuously running B&B in the San Juans. We prepare new takes on classic dishes alongside some delicious new ones you may not have seen before. We'll gladly omit any ingredients you don't eat, but we don't take requests about what we're going to make each morning.
The lodge-like ambiance of the spacious living room, with its broad field stone fireplace and mission style furnishings, invites you to melt into the comfortable setting and relax. Spend a quiet afternoon curled up with a book or linger over one of our tasty breakfasts made from scratch in the bright & airy breakfast room or on the sunny deck. After a day of hiking, cycling, sailing, or shopping, enjoy an intimate and relaxing soak in the garden hot tub under the stars.
We want you to feel like you're at a friend's house, not waited on by a servant. Please use and enjoy the old world furnishings and feel free to make yourselves at home. We think that's the way a vacation should be - relaxed, without a whole lot of fuss or rules.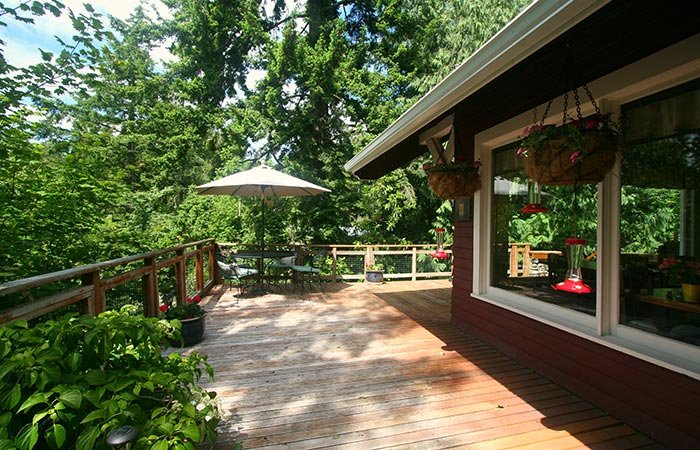 Set back 150 feet from the road, with its deep porch and huge windows, the inn at first glance does not look like the 6,500+ square foot lodge that it is. Protected from deer by a high fence, winding grass paths wander through the wilds of the back garden all the way back to an open-air hot tub in a secluded spot. The garden has been certified as a Backyard Wildlife Sanctuary by the Washington Department of Fish and Wildlife and has been planted to attract the widest variety of animals possible.
The guest deck, with container plantings and hanging baskets, provide an overlook to the gardens and a place to relax, sip some wine, and enjoy the evening. And, you don't have to be a birder to enjoy the antics of all the various birds (53 different species identified so far) coming and going at the feeders. Right now the garden hosts many species of birds returning and starting to raise their young. The view from the hot tub at night shows a million twinkling stars in blissful silence.


About Your Hosts
Jill and Charles had diverse evolutions of careers that took them around the country and abroad before they took the plunge to own and run a B&B. Charles had a growing passion for the natural world, vernacular architecture, handmade tools & craft, and there never seemed to be enough opportunity to delve deeply into those things. Jill always relished the arts, literature, and literary events. When hosting celebrations in the past, Jill was sorry our artist & writer friends had to go home afterward, and busily planned the next event. Inviting guests to stay with them, enjoying good conversation & food, and sharing the wonder of the islands with others makes them particularly happy.
When not creating breakfast goodies for guests, Jill writes, teaches creative writing, and enjoys running the arts organization Artsmith. Her books include Diary of the One Swelling Sea, winner of the Nautilus Silver Award in Poetry, Revolutions We'd Hoped We'd Outgrown, shortlisted for the Clara Johnson Award for Women's Literature from the Jane's Stories Press Foundation, and most recently For Love of Orcas, co-edited with Andrew Shattuck McBride and with proceeds benefiting The SeaDoc Society's efforts to save the endangered Southern Resident Orcas.

Charles loves making and building things by hand, antique tools, blacksmithing, and other work craft lost to the industrial revolution. Together they enjoy all the arts, an unapologetic love affair with food, travel, independent bookstores, antiquing, the outdoors, and stealing away to find every nook and cranny of Moran State Park.
Yes, Virginia, there really was a kangaroo...
Originally built as a vacation hotel in 1907 by a stonemason named D.W. Gafford, Kangaroo House had a succession of fascinating owners over the years. In the early 1930s Captain Harold (Cap) Ferris, a skipper on the Matson Steamship Line purchased the home after staying here previously as a guest.
Cap brought a young wild kangaroo home from a voyage to Adelaide, Australia. On the voyage back to Orcas, Cap played music on the pipe organ he had installed on his ship to calm the young joey. Cap & Virginia named her Josie, and she delighted their family and Islanders with her high-spirited antics. She was adept at predicting the weather, and the Ferris family knew a storm was brewing when Josie chose to lie down under the big cedar tree on the north side of the house.
Old timers still delight in telling us stories about Cap's unique pet. The islanders loved Josie, and this lovely old home has been known as the "Kangaroo House" ever since. Back in the 1900s through the 20s, it was named the Aloha Hotel and Aloha House when the San Juans were a stopping point for voyages to and from Hawaii. It has served as a lodging haven for travelers to Orcas Island for 114 years and as a Bed & Breakfast for 42 years and counting, the longest continuously operating B&B in Washington's San Juan Islands.